REGARDING HIGH+LOW: A FORTY-FIVE YEAR RETROPSECTIVE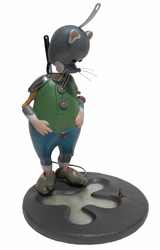 "There are a number of larger currents to connect Lombardi's career, which were already present in the early Cyborg series, where humanity has survived through the evolution and mechanization. Things like conspicuous consumption, pollution, and climate change show up in various ways throughout the exhibition in both his two and three dimensional works. For example, in the Need is Chance Rising (2015), Lombardi integrates found objects into an inventive tabletop sculpture. This simultaneously evokes humor and whimsy, but also unease. The detritus of a capitalist consumer society recycled out of necessity to create a monstrous, hybrid new figure. Like the cyborgs of his earlier series, his sculptural figures are ad hoc survivors."

Antje K. Gamble, dART International Magazine, January 2020

"High+Low, A Forty-Five Year Retrospective of the art of D. Dominick Lombardi, is a career survey organized and curated by T. Michael Martin for the Clara M. Eagle Gallery in Kentucky. The work featured begins with figurative art in the realm of science fiction dating back to the 1970s, before moving on to sculptures related to Pop Art and the Funk Art movement in the late 1980's, and then to stickers and Appropriation Art in the 2000's."

"There is a wide mix of media and type, including a large number of oil and acrylic paintings, mixed media sculptures (some kinetic) and a number of collages and works on paper. Seen as a whole, the exhibition reveals a diverse range of practices and subjects addressed in Lombardi's oeuvre over a near half-century of this New York based artist."

Rupert Goldsworthy, Interview With D. Dominick Lombardi, Whitehot, 2019

REGARDING SAINTS, SINNERS AND THE COLLECTIVE UNCONSCIOUS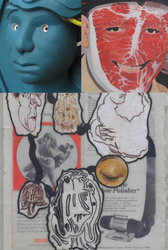 "There are gods and monsters in each of us. One person's hero is another person's villain; as Joseph Campbell famously wrote, "You could be a local god, but for the people whom that local god conquered, you could be the enemy." In the exhibition statement for "Saints, Sinners and the Collective Unconscious," artist D. Dominick Lombardi wrote that his work is his "personal freedom."

"Our collective history and, therefore, unconscious, is haunted by saviors and destroyers, imaginative human-made entities derived from external and internal emotions and conditions. Our conscious struggle to break free from a mutual and vague imprisonment defines the human animal. It is our cultural intellectuals and artists who assist us is processing the truth."

"Lombardi fuses humor and sadness to expose our gloriously tragic comic condition. The style is a "junkyard/salvaged" or "outsider" aesthetic that is appealing and approachable. The images are a strange synthesis of history, as if an innocent person attempting to understand human life pulls together artifacts and assembles them, idiosyccratically creating an off-beat personal mythos."

"The fluctuating duality between good and evil, a topic that needs to be continually reexamined, is especially relevant today."
J. Fatima Martins

, UNIVERSITY SPOTLIGHT, D. DOMINICK LOMBARDI: SAINTS, SINNERS AND THE COLLECTIVE UNCONSCIOUS, HAMPDEN GALLERY, UNIVERSITY OF MASSACHUSETTS AMHERST, Artscope, August 29, 2017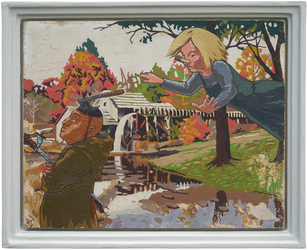 "Saints, Sinners, and the Collective Unconscious is riveting. Mr. Lombardi is an artist with an intimate understanding of history in regard to religion and popular culture. After careful viewing of the 30 works in the exhibition, I was compelled to research the titles of the works because they seemed to hold the key to unlocking Lombardi's intentions. I focused on the works in the Saints section of the exhibition because I found their cryptic iconography most intriguing. The research of the saints depicted in Lombardi's work opened up a new route for me to access the works' meaning."



Matt Oliver

, When the Saints (and Sinners) Go Marching In, culturecatch.com, September 29, 2017

"Religious references, pop culture imagery, and vintage elements unite in a cryptic gestalt that touches a nostalgic nerve. Collectively, the works in the exhibition exude a retro vibe paired with a futuristic sensibility."



Anne LaPrade Seuthe

, Director, and

Sally Curcio

, Gallery Manager, Hampden Gallery, University of Massachusetts, catalogue essay
REGARDING SHIFT PAINTINGS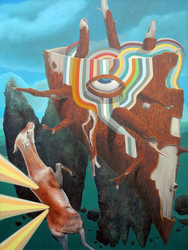 "Lombardi's Call of Nature (2015), a trip scene of a one-eyed tree and a deer..."



Bradley Rubenstein

, High Anxiety, culturecatch.com, January 14, 2016
"D. Dominick Lombardi's painting is another surreal vision of humans united with trees. In Call of Nature,(2015) a large upraised eye dominates a fragmented, dead tree stump next to a deer who is balanced in the ungainly act of either approaching the tree or lurching away, or both. While appearing comically monstrous, there is nothing very funny about this claustrophobic rock-filled barren world, the deer itself seeming to symbolize the precarious position of living in a world that is virtually upside down."
Jeanne Wilkinson

, New York's Lesley Heller Workspace, 'Shaky Ground': Seeing Nature in New Ways, ARTES magazine, February 4, 2016.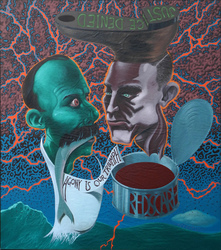 "Lombardi's "Sacco and Vanzetti" is another surreal depiction of the famous men who were wrongly executed for murder in 1927. Their faces are appropriately discolored like corpses, floating above a rough sea. Lightning runs throughout the background, reminiscent of their execution method, the electric chair."
John Paul Stapleton

, Portraits Take It From The Top, artscope, November/December, 2015.
"Equally colorful, curator, D. Dominique Lombardi, has entered himself into the mix with a piece of thought-provoking political satire, in the painting "Sacco and Vanzetti." Surely influenced by Pawel, Lombardi places pungent objects and smart wording amongst the heads of the two infamously persecuted anarchists. Conjuring lyrics of Woody Guthrie, but offering a fresh look at a timeless story, the painting is ripe with intoxicating blues, greens, and a coral-esque background ignite with a circulating grid of orange. The work boosts the idea that the head can personify an idea, not just an individual."

"Lombardi's show is a complete buffet for the eyes, offering to stimulate the pallet of many an art enthusiast. The diversity of the pieces come together nicely to strengthen the idea that the head is as limitless a symbol, as it is to us a tool."



Jillian Burkett

, A Head is not a Head, culturecatch.com, Octorber 20, 2015

"Lombardi's painting, "The Conjurer" (2014), updates this style. His surreal, loopy style of figuration feels much more contemporary. Dana Schutz and David Humphrey have explored similar themes, but Lombardi's more modest scale and genuine appreciation of illustrators like R. Crumb lends his work a sinister twist that remains with the viewer longer."